M/S Johnson Plastosonic (P) Ltd
started originally as name of M/s National Indosonic.The company started it's operations by providing services in field of ultrasonic plastic welding machines.
• Johnson Plastosonic (p) ltd is professionally managed company.
• Registered under ROC India.
• We have more than 15 years experience in developing products and machines for ultrasonic welding applications.
• We have our manufacturing set up at Pune, India.
• We all relevant required facilities.
• Our equipment are reliable quality at competitive rates.
• The equipments are backed with prompt service support.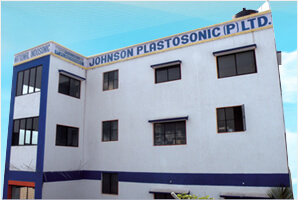 Ultrasonic plastic welding machines are the machines in which ultrasonic vibrations are used for joining thermoplastic materials.Mostly the injection molded parts are joined by ultrasonic plastic welding process. As well as parts manufactured by vacuum forming process, blow molding process, fabric made by woven and thermoplastic welding process are being joined by the ultrasonic welding process.The plastic is being melt by giving vibrations of frequency 20khz & above.In 2001 company has made first ultrasonic plastic welding machine.Later company has made lot of research & development work.

In 2007 company has changed from an enterprise to pvt. Ltd. Unit.
At Present Company Manufacturers
• Ultrasonic plastic welding machines & hand held welding units.
• Fabric continuous cutting & sealing machines.
• Ultrasonic machines for packaging.
• Ultrasonic metal welding units.
• Ultrasonic liquid processor systems.
• Special purpose machine in field of ultrasonic vibrations utilizations.
• Ultrasonic machining center.
The ultrasonic equipment manufactured in the range of 15 khz to 35 khz. With the wattage from 500w to 2500w.
The company has it's works at Shivne Industrial area , Pune & it owns. 13000 Sq. feet constructed space.
The company has in house manufacturing facility of electronics. PCB assembly & testing with adequate facility & testing equipments. Assembly & wire harnessing.
Mechanical facility
Machining facility : 3D modeling , turning, drilling cutting. milling, Lapping.
Vision
Vision is to make reliable equipments with latest technology at competitive rate in field of utilization of ultrasonic vibrations.
Mission
With vision to sale it's products in larger base, company has laid emphasis on Research & Development.
Giving due importance to research & development company has made 1 st ultrasonic generator with auto tuning facility.
Management Team
The directors of company have more than 13 years experience in manufacturing ultrasonic vibration generating equipment wholly , developing new applications in the area & also distribution & service providing for the same.
The company has it's product supplied all over India. Right from Himachal Pardesh to Kerla .& right from Ahmedabad to Kolkatta.